Boheme Hair Growth Bundle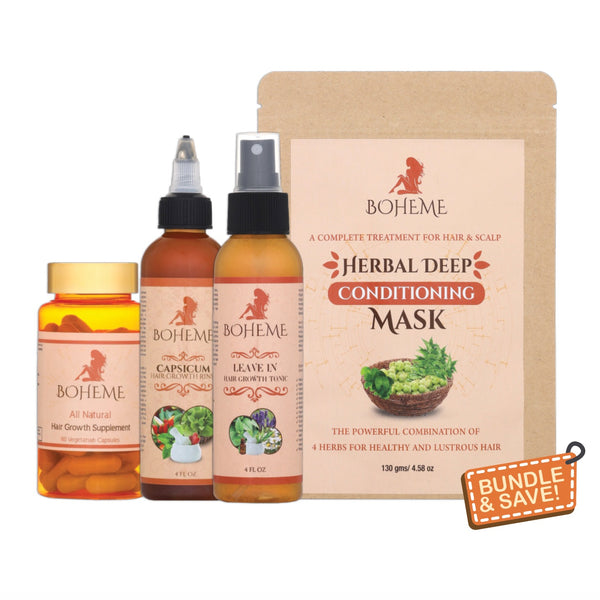 Boheme Hair Growth Bundle
Get The Essentials Pack!
Our Boheme Bundle Includes 
(1) 30 Day Supply of the Hair Growth Supplement.
Guaranteed To Promote
voluminous hair growth

 

strengthening of the hair roots

 

luster of hair follicles

 

deep moisture of the scalp
prevention of; excessive hair fall/balding, split ends, dandruff, and premature greying
These Ayurvedic Herbs also contain properties that
purify the blood
promote proper fat and metabolism function (Speed Up Metabolism)
reduce cholesterol
improve memory/ proper brain function
boost immune system
treat acne/eczema of the skin
reduce stress/anxiety
promote healthy digestive tract
prevent minor colds
(1) Bottle Boheme's Hair Growth Tonic
 A mixture of essential herbs and oils especially blended together to promote beautiful lustrous shiny healthy  hair growth!
Our Secret includes blending organic essential herbs and oils  together for an extensive period of time providing all the nutrient and antioxidants needed in our tonic to give your hair the optimal hair growth, moisture, and hydration, needed to speed up your hair growth process and recovery!
Boheme Leave In Hair Growth Tonic Benefits
Help unblock hair follicle
Speed up hair growth
Improve hair strength
Increase hair growth
Anti-breakage
Reduce hair loss by balancing the oil-producing glands in the scalp
Antifungal properties
Antibacterial properties
Improve Blood Circulation
Stimulate hair growth
Conditions both the scalp and the individual hair follicles
Increases follicle growth and depth
Improves hair texture and reduces hair breakage.
Relieve itchy dry scalp
Ingredients-  Organic Mint, Organic Stinging Nettle, Organic Chamomile, Organic Horsetail,Organic Green Tea, Organic Hair Growth Essential Oil Blend
(1) Bottle Capsicum Hair Growth Rinse
Capsicum Annuum is naturally a very potent stimulant that is good for increasing the activity of blood flow. When placed on the scalp it causes a tingling sensation.  That tingling feeling is the cayenne triggering increased blood flow from root to tip of every hair follicle, causing increased hair growth.
Cayenne also naturally has all these vitamins and minerals to help with hair growth!
 • Vitamin A regenerates damaged cells.
• Potassium soothes and hydrates scalp.
• Capsaicin helps improve blood circulation.
• Magnesium makes blood vessels stronger.
• Vitamin C increase tolerance to outer exposure.
• Fatty oils that strengthen and protect hair follicles.
• Vitamin B6 activates hair growth, reducing baldness.
• Iron provides cells with the proper amount of oxygen.
• Phylloquinone (K) moisturizes the scalp reducing dryness
Ingredients:
Capsicum Annum, Mint, Essential Oil Blend
(1) Packet of Herbal Deep Conditioning Herbs
Our Boheme Herbal Deep Conditioning Mask made with Only 4 All Organic Herbs, Bhringraj, Bhrami, Amla, and Neem promote
Healthy Thick Voluminous Hair Growth
Strengthening of Hair Roots
Luster of Natural Hair Color
Deep Moisture of Scalp
Prevention of Excessive Hair Fall/Balding, Split Ends, Dandruff, and Premature Graying
OUR CUSTOMERS SPEAK FOR US