Boheme Leave In Hair Growth Tonic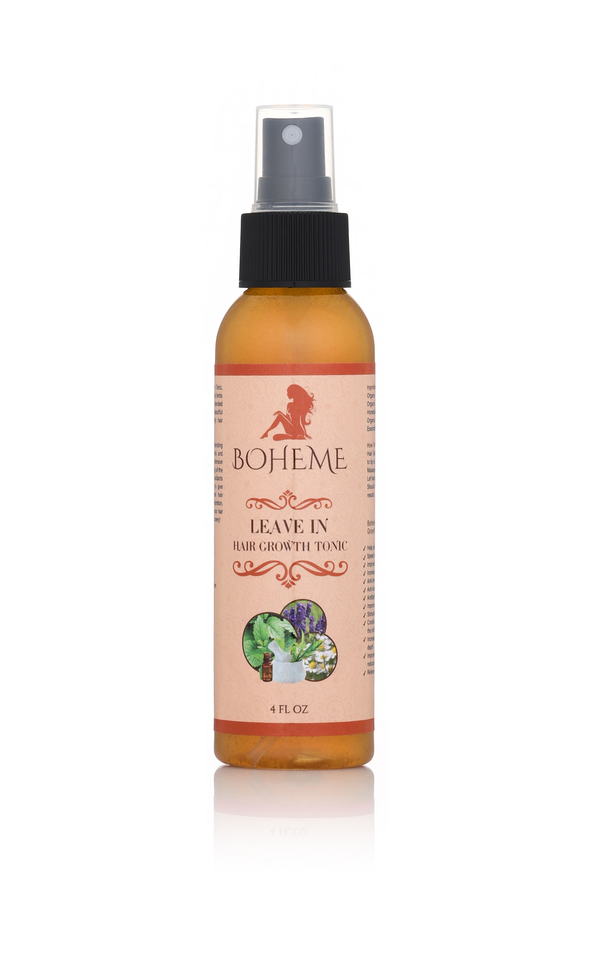 Boheme Leave In Hair Growth Tonic
Boheme's Hair Growth Tonic, is a mixture of essential herbs and oils especially blended together to promote beautiful lustrous shiny healthy  hair growth!
Our Secret includes blending organic essential herbs and oils  together for an extensive period of time providing all the nutrient and antioxidants needed in our tonic to give your hair the optimal hair growth, moisture, and hydration, needed to speed up your hair growth process and recovery!

Boheme Leave In Hair Growth Tonic Benefits
Help unblock hair follicle
Speed up hair growth
Improve hair strength
Increase hair growth
Anti-breakage
Reduce hair loss by balancing the oil-producing glands in the scalp
Antifungal properties
Antibacterial properties
Improve Blood Circulation
Stimulate hair growth

 

Conditions both the scalp and the individual hair follicles

 

Increases follicle growth and depth

 

Improves hair texture and reduces hair breakage.
Relieve itchy dry scalp
Ingredients- Organic Mint, Organic Stinging Nettle, Organic Chamomile, Organic Horsetail,Organic Green Tea, Organic Hair Growth Essential Oil Blend
How To Use: Spray Boheme's Hair Growth Tonic from root to tip on the hair follicles. Massage scalp 3-5 minutes. Let hair dry and style as usual.  Should be used daily for best results.
OUR CUSTOMERS SPEAK FOR US